Overhung Pumps
Between Bearing Pumps
Vertically Suspended Pumps
Friendship link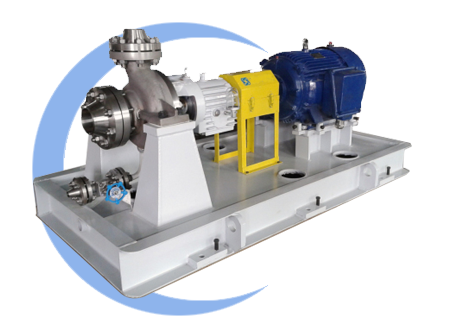 OH2 Series SCP Pumps
Single stage,Horizontal Process Pump .
For petroleum, petrochemical, heavy-duty chemical, gas industry, power plants, utilities and others. SCP type is a heavy duty, single stage, centrifugal overhung process pump built in accordance with the latest Edition of API 610.
Designed for all fluids and process conditions, the SCP process pump has a hydraulic range unequaled in the industry. The range comprises of 131 hydraulic combinations with only 4 types of easy maintenance and serviceability.
This optimal design ensures low vibration levels and long operating life. To meet the most stringent requirements, the SCP is available in a wide spectrum of high-performance materials.
Our manufacturing facilities are all ISO 9001 certified and are fully equipped with state of the art, sophisticated CNC machines.
STRUCTURE CHARACTERISTICS

Radially split, horizontal single stage centrifugal pump.
Centerline mounted.
Single / double volute depending on size.
Single suction, enclosed impeller.
Axial thrust compensation by balance holes.
End-Top nozzle arrangement.
Discharge nozzle above centerline.
Materials of construction per API 610.Or available on request.
PERFORMANCE PARAMETERS

Capacity up to 3,200 m³/h (14,000 U.S. gpm).
Head up to 330 m (1,083 ft).
Discharge flange nominal size 1'' to 12''.
Maximum Pressure 90 bar (1,300 psi).
Temperature -80 to 450 ºC (-110 to 850ºF).
DESIGN FEATURES

Heavy duty process design according to API 610 latest edition (OH2 type).
Oil ring lubrication. Other methods of lubrication are available.
Replaceable wear rings for casing and impeller.
Special design for abrasive liquids available.
Low temperature design on request.
Inducers for low NPSH available.
Available for Fan and Water cooling
Rotating element completely removable without disturbing inlet and outlet pipline or driver.
Jacketed casings available for fly ash & similar service.
APPLICATIONS

Petroleum Refining, Production and Distribution.
Petrochemical.
Heavy-duty Chemical.
Gas Industry Services.
Power Plants.
Utilities.