Overhung Pumps
Between Bearing Pumps
Vertically Suspended Pumps
Friendship link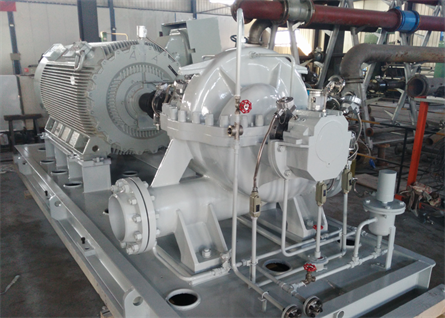 BB1 Series SHS Pumps (Single Stage)
Single Stage Horizontal Centrifugal Pump For fire services, cooling towers, municipal, oil process, petrochemical, sugar industry, paper industry, pipeline, power plants and other applications.

The SHS pump is a horizontal, single stage, double suction, double volute axially split case centrifugal pump. The suction and discharge nozzles are integrally casted in the lower half of the casing. The nozzle arrangement is side/side.
STRUCTURE CHARACTERISTICS

High Efficiency design.
Single stage, horizontal split case centrifugal pump.
Horizontally split casing, double volute minimizes radial thrust loads and allow operation over and wide range of capacities.
Flanged connections.
Enclosed impellers, double suction provides hydraulic self-balance eliminating axial thrust.
Clockwise or counter clockwise rotation.
Both ends of the pump can be used as a driving end
Foot Mounted.
PERFORMANCE PARAMETERS



Eg. : Model SHS500-450-530
Capacity:2215 m3/h
Head:90 m
Discharge flange size 5'' to 36 ''
Maximum Pressure 28 bar ( 400 psi )
Temperature 10 to 150 ℃ (50 to 300 ℉)
Efficiency : 87%
NPSHr: 6.0 m
Speed: 1480 rpm
DESIGN FEATURES

Oil or grease lubricated bearings.
Stuffing box configured for packing or mechanical seals.
Horizontal or vertical mounting configurations.
Renewable wear rings.
APPLICATIONS



Fire Service.
Cooling Towers.
Municipal.
Oil Process.
Petrochemical.
Sugar Industry.
Paper Industry.
Pipeline.
Power Generation.
Dewatering.
Mining.
Water.