Overhung Pumps
Between Bearing Pumps
Vertically Suspended Pumps
Friendship link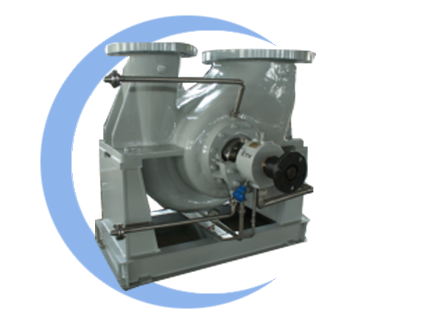 BB2 Series DSP Pumps (Single Stage)
Double Suction Horizontal Process Pump .
Between Bearing Single Stage. For heavy-duty temperature process, process and industrial applications including: charge, injection and utility booster, and other applications.

The pumps of the TSP range are heavy-duty centrifugal process pumps for general applications. These pumps are single-stage designed.
The pumps meet the stringent specifications of API Standard 610 and reflect the many years of our experience in the design, manufacture, quality assurance and operation of process pumps under heavy and medium duty conditions.
STRUCTURE CHARACTERISTICS

Radially split, horizontal , single-stage centrifugal pump.
Centerline mounted.
Double volute casing.
Double suction, enclosed impeller.
Axial thrust compensation by double suction impeller.
Top-Top nozzle arrangement. Or other arrangements on special request.
Materials of construction per API 610. Other materials on request.
PERFORMANCE PARAMETERS



Capacity : 100 to 4,200 m³/h (435 to 18,200 U.S. gpm).
Head : 40 to 350 m (135 to 1,150 ft).
Temperature 135 to 450ºC (275 to 845ºF).
Ambient Temperature up to 400ºC (up to 752ºF).
Discharge Pressure up to 40 bar (up to 580 psi)
Discharge Branch Size 100 to 500 mm (4 to 20 in)
Speed 50/60 Hz up to 1,480/3,560 min-¹ (1,480/3,560 rpm)

DESIGN FEATURES

Heavy duty process design according to API 610 latest edition (BB2 type).
Ring Oil Lubrication. Other methods of lubrication available.
Fan and Water cooling available.
Top suction and Top discharge.
Jacketed casings available for fly ash & similar service.
Double ended shaft available.Both ends of the pump can be used as a driving end.
APPLICATIONS



Refineries.
Oil Fields.
Petrochemical Plants.
Chemical Plants.